Ninth Show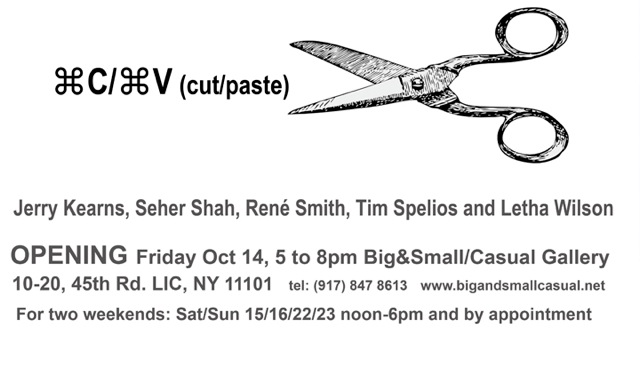 This show is about collage and the 'collage aesthetic.' Jerry Kearns describes that aesthetic as 'the visual theory of relativity' and equates it with the Renaissance discovery of perspective for the way it liberates our notion of visual relationships between objects in time. Computers, Photoshop and the Internet have vastly expanded that visual field and the ⌘C and ⌘V computer keys are as much a way of thinking, as they are tools for collageing. Synthesis, hybridism and the irrelevance of boundaries are characteristics shared by the artists in this show.
Kearns raids 'the vast information flow that informs much of what we know about the world' for images that he then recombines in Photoshop to make collage amalgams which provide the imagery for his paintings - a process he sees as a 'dialogue between hand and machine'.
The hand is a strong factor in Smith, Spelios and Wilson's work, particularly Spelios, who makes hand-cut photo collages with fantastic fluidity. He collects found printed matter that he slices, rotates, mirrors, repeats and transforms into complex, disorientating images.
Smith's collages are juxtapositions of erotica and landscape photography that focus on the female gaze, pleasure, and fantasy. She takes apart and re-assembles images from early Playgirl and other vintage magazines, with results that are romantic/erotic and humorous at the same time.
Wilson brings a sculptor's tactile sensibility to three-dimensional photo collage. She combines photographs of natural landscapes with a broad range of materials in ways that question photography's ability to convey the physicality of landscape. She works across media blurring the boundaries between abstraction and realism, landscape and architecture.
Seher Shah's work is situated at the intersection of architecture and drawing. Trained as an architect, she creates fabulous, multi-dimensional spaces that combine photography, drawing, ornament, and architecture. She is particularly interested in the architecture of power, and, like Kearns, social commentary is a strong component of her work.
Brief Artist Bios
Jerry Kearns was born in born in West Virginia in 1943, grew up in California, graduated with an MFA from UC Santa Barbara in 1968 and won the Rome Prize for Sculpture that same year.
Moving to NYC in 1976, Kearns began working as a cultural activist and artist with the Artist Meeting for Cultural Change (AMCC) and The Red Herring Collective. He was a street photographer with two civil rights groups, The Black United Front of Brooklyn and The Committee
Against Fort Apache in the Bronx. In October 1981, Lucy Lippard and Kearns reported on these activities in their Artforum article, "Cashing a Wolf Ticket." This was the beginning of 5 years of close collaboration with Lippard, writing articles, organizing cultural events and curating exhibitions. That same year, 1981, they joined in co-founding Political Art Documentation/Distribution (PAD/D), a cultural activist group that was part of the Soho, East Village scene in the 1980s. During this period Kearns worked closely with Leon Golub, Nancy Spero, Dennis Adams, Papo Colo, Jeanette Ingberman, Afredo Jarr, Ida Applebroog, Sue Coe, Anton van Dalen, David Wojnarowicz, Keith Haring, Judy Glantzman, Jane Dickson, and Charlie Ahern, among others.
A 1985 a solo exhibition at EXIT ART, NYC, launched Kearns' painting career. Since then he has produced 25 one person exhibitions; his prints and paintings are represented in 33 museum and public collections, including The New York Museum of Modern Art, The Whitney Museum of Modern Art, The San Francisco Museum of Modern Art, The Brooklyn Museum, The Nationale Galerie, Berlin, The IVAM Centre, Valencia, Spain, and The Western Gallery of Art, Perth, Australia. Website: www.jerrykearns.com
Seher Shah was born in 1975 in Karachi, Pakistan, and grew up in London, Brussels, and New York City. She received her Bachelor of Fine Arts and Bachelor of Architecture from the Rhode Island School of Design in 1998. Recent exhibitions include "Eccentric Architecture" at the Queens Museum of Art; "21: Twenty-First Century Artists"" at the Brooklyn Museum; "Drawing Space and Line of Control" at Green Cardamom, London; "Infinite Possibilities" at Momenta Art, Brooklyn; and "On Rage/ Uber Wut" at the Haus der Kulturen der Welt, Berlin. Her work is included in the permanent collections of The Museum of Modern Art, New York, Brooklyn Museum, Queens Museum of Art, and Museum of Contemporary Art in Schauffhausen, Switzerland, among others. She has had reviews in the New York Times, Art Asia Pacific, Bidoun, Art Papers, Newsweek, and Frieze Magazine. Shah lives and works in Brooklyn, New York.Her current solo show at Scaramouche Gallery, 52 Orchard St, NYC, NY 10002 is up through October 30th. Website: www.sehershah.net
Rene Smith was born in Philadelphia and received her M.F.A. in Painting from Tyler School of Art in Philadelphia and her B.A. in Painting from Bennington College in Vermont. She studied painting for two years in Rome, Italy. She was a Visiting Lecturer in Painting at Chiang Mai University in 2008-09. Recent exhibitions include a solo show at Chiang Mai University in Thailand, a two person show at Koi Gallery in Bangkok, and The Siam Art Fair with BKK Art House Gallery in Bangkok. She is currently an Adjunct Lecturer at Saint Thomas Aquinas College in New York. She lives and works in Bushwick, Brooklyn, New York. Website: http://renesmith.net
Brooklynite, Tim Spelios, takes photos, assembles collage, plays drums, cuts up sounds, makes sculpture, and builds cabinets. He has shown his collage and installations at Exit Art, the Drawing Center, Sculpture Center, Smack Mellon Studios, Long Island University, Pierogi Gallery, and Parkers Box among others. Spelios has taught at Pratt Institute, and The University of Illinois at the Phillips Collection in D.C. Spelios has played drums internationally with the bands No Safety, and Chunk. During the burgeoning Williamsburg art scene of the 90s' Spelios, with Caroline Cox, co-founded and ran Flipside Gallery from 1996-2001, showing a wide range of innovative art.
Spelios began making collage in high school when he created flyers to promote performances of Mr. Klopp. His visual and musical pursuits brought him from Normal Illinois, to New York, via San Francisco. He continues to weave an improvised and convoluted personal narrative through his work. Mining obscure connections and reacting to the overlooked poetry in the mundane, he searches for his source material in flea markets, bookstores, and the ever-changing ephemeral urban landscape. Website: www.timspelios.com
Letha Wilson was raised in Colorado and received her MFA from Hunter College in New York City, and her BFA from Syracuse University. Letha attended the Skowhegan School of Painting and Sculpture in 2009, and her artwork has been shown at many venues including the Bronx Museum of the Arts, Socrates Sculpture Park, Exit Art, Arko Arts Center (Seoul), BravinLee Programs, Sue Scott Gallery, PARTICIPANT Inc, Vox Populi, Nudashank, Fleisher/Ollman Gallery and the Aldrich Museum of Contemporary Art. In 2011 Letha was an artist-in-residence at the Bemis Center for Contemporary Art and her work is currently included in the 2011 Next Wave Art exhibition at the Brooklyn Academy of Music. Website: www.lethaprojects.com
Eighth Show
From Our Permanent Recollection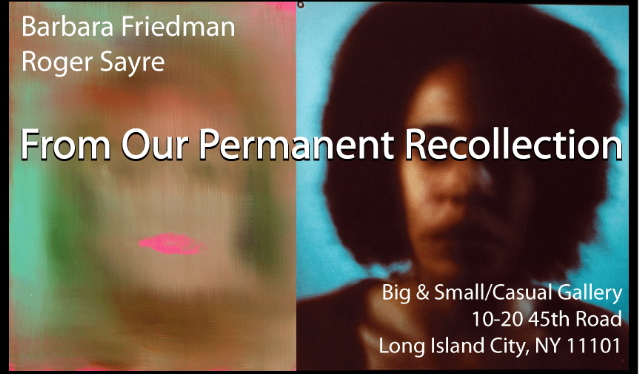 Barbara Friedman and Roger Sayre combine to show work that deals with portraiture and time. Each approaches their respective media with tactile intensity - Friedman with rich paint and very physical drawings, and Sayre with photography using a large, hand-built camera and long exposures. In both of their work there is the feeling that our identity is embedded in the physical, which although vividly present is nevertheless ellusive, un-graspable. From Da Vinci, through Vermeer to Gerhard Richter and beyond, the soft or blurred image has been used to create some of the most enduringly mysterious and 'living' images. Friedman and Sayre have embedded those qualities in both their subject matter and the fabric of their approach.

Barbara Friedman will show two bodies of work: Head Grid and Last Drawings of My Mother. Both sets of work are a meditation on and conversation with her mother who died last year shortly before her 100th birthday. Head Grid started with a small painting of Erica, Friedman's mother. As Erica aged, and slowly lost her eyesight to macular degeneration, it felt natural to Friedman to make her portrait correspond to the way her mother saw faces: recognizable but also slipping away; impossible to focus on. Erica's extremely compromised vision very much spoke to Friedman's own skepticism about the possibilities of representation.
"I am more interested in the history of figurative painting than in portraiture as such. These heads start out somewhere (I look at faces of friends and family or at art historical or pop cultural references etc) but the paintings insistently keep mutating and I never know where they'll end up. It's this uncertainty that fuels (and frightens me)." This process eventually inspired an entire wall-full of faces as Friedman thought they might have appeared to her mother.
Friedman says "The general effect is similar to an effect I pursued in earlier paintings, in which a superior viewpoint at a distance promises to let you see everything even while making it hard to see anything: the idea that zeroing in on something threatens to make it unrecognizable."

The drawings in this show are the last images Friedman made of her mother. To her they are "like a record of the last one percent of her life." For these pieces she focused not on how the world came in through her mother's eyes but how it impinged on her skin, now thin as paper. She used ink and masking fluid on vellum, knowing that the process of working with these materials would make the vellum's translucent surface bruise and buckle evoking the effects of age on skin. Reminiscent of Don Bachardy's drawings of the dying Christopher Isherwood, they are a poignant record of impending loss.

Roger Sayre's interests in photography, conceptual/process art, and performance are exemplified in the Sitting series, which consists of portraits in which the subject sits for one hour before a large hand made camera. The "film" used is photographic paper, cut from a larger roll and pinned inside the camera. Sometimes the pins appear as photograms on the negative, a visual artifact of the process. A one-to-one contact print is made of each negative. Because color photographic paper is not designed for such long exposures, the hues tend to wander.
The resulting images hark back to an earlier era of photography and resonate with a likeness of the sitter that is possibly truer than a traditional fraction-of-a-second photograph. One cannot hold any single expression for the span of an hour; instead, all expressions are merged into a single image. The sitter's essence, distilled and averaged, is revealed.
New York Times columnist Peter Applebome called the work "Matthew Brady meets the Twilight Zone"

Roger Sayre's solo exhibitions include A.M. Richards Fine Arts in Brooklyn, Carnegie Mellon in Pittsburgh, and Cooke Contemporary in Jersey City. His work has been included in group shows at The Pamela Auchincloss Project Space, Artist's Space, The Here Art Space, The Bronx Museum, The Jersey City Museum, The Franklin Institute in Philadelphia and the San Francisco Camerawork Gallery. Sayre's work has been reviewed in Sculpture Magazine, New York Times, Portrait Magazine and the Pinhole Journal. He is the founder and director of Jersey City's Brunswick Window gallery (since 2001). Sayre is the author of the entry "Camera Obscura" in Routledge's Encyclopedia of Twentieth Century Photography. He is the recipient of two Mid-Atlantic Arts Foundation Grants and a Casa Terra artist residency in Apuglia, Italy. Sayre's recent work, re-mixed media, a collaboration with artist David Poppie is currently on display at Down Street Art in North Adams, MA.
Barbara Friedman has had over a dozen solo exhibitions in New York City, most recently at Michael Steinberg Fine Art (2007 and 2009) and Paul Sharpe Contemporary Art (2006). Other recent solo exhibitions have included Van Brunt Gallery in Beacon, NY, The Ober Gallery in Kent CT, both in 2008, and BCB art in Hudson, NY in 2010. In 2000 a painting of hers was chosen for inclusion in "The Figure," a comprehensive survey of the figurative art of the last fifty years, curated by critic Lilly Wei at the Snug Harbor Cultural Center.
Other exhibitions include solo shows at the Painting Center, Art Resources Transfer, Queens Museum, and White Columns (all New York City); Carnegie-Mellon University (Pittsburgh), Cleveland State University, Dana Wright Gallery in San Francisco, and the Roanoke Museum of Fine Arts; two-person shows at the Wallace Gallery of SUNY Old Westbury and Marymount Manhattan College; group shows at the Drawing Center, Artists Space, Exit Art, Art in General, Gray Art Gallery, the Terry Dintenfass Gallery (all New York City); the Aldrich Museum of Contemporary Art in Connecticut; and the Metro Building in Belfast, Northern Ireland.
Reviews of her work have appeared in the New York Times, the New York Sun, The Irish Times, Newsday, Art in America, ARTS Magazine, and Artweek. A group of her paintings were selected for the 2007 and the 2010 issue of New American Paintings.
www.barbarafriedmanpaintings.com
---
Seventh Show
Six Who Paint
curated by Fred Valentine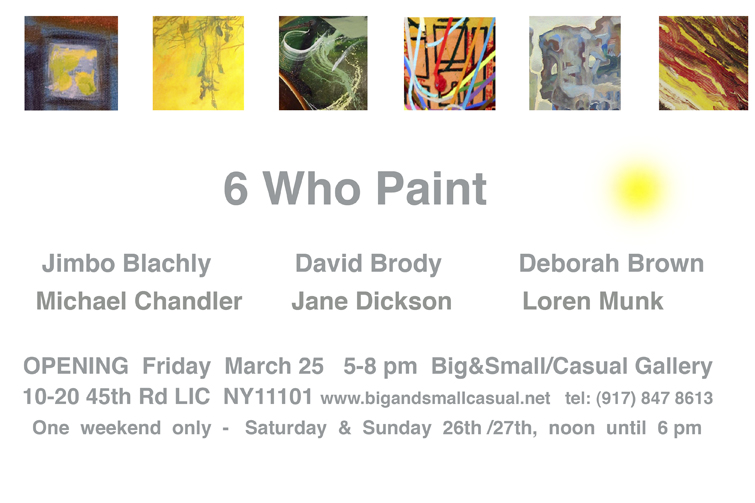 The six artists in this exhibit share little overt visual, stylistic traits or connections and fortunately without a prevailing ism to hang ones curatorial hat on what else is the weary curator to do. Sarcasm aside my thinking was to gather together a group of painters who approach the act of painting in often radically different ways. All use paint as their principal medium with the exception of Mr. Blachly who is known primarily as a sculpture and has come upon paint fairly recently. All six have been a respected part of the New York art scene for decades and each continue to find ways to challenge and push the medium. In short they all paint and all have good chops. Any attempt to link the individual styles or approach is up for grabs. A big thanks goes to Kate Teale at "Big Small and Casual" for making this spring offering possible. Fred Valentine

Jimbo Blachly is an artist living in New York City. His installations and performances have been exhibited at Franklin Furnace, The New Museum, P.S.1 and The Sculpture Center in N.Y.C. and Catherine Clark gallery in San Francisco. Since 2004 he has been co-editor of The Chadwick Family Papers with the poet Lytle Shaw, they have presented work in exhibitions at ICA and Bartramís Garden in Philadelphia and at Wavehill in the Bronx, N.Y. and The Tate Gallery, London. In May/June of 2011 their work will be exhibited at The Museum of Art and Design and Winkleman Gallery in NYC. Lytle and Jimbo's book 'The Chadwick Family Papers (a Brief public Glimpse)' was published in November 2009 from Periscope Press. Jimbo will be showing paintings from March 25th through April 30th at Winkleman Gallery in NYC.

Jane Dickson: Dusty landscapes of demolition derbies, red lit interiors exposing naked strippers, vertiginous views of cops and perps, blank staring portraits of single family suburban homes, desolate neon lit strip malls, and rolling windshield views of American highways have all found their way through Jane Dickson's light and color into the canon of American art. Her work is owned by a dozen museums including The Metropolitan Museum of Art, the Museum of Modern Art, The Whitney Museum of Art, The Art Institute of Chicago, The Library of Congress, Washington DC, the Victoria and Albert Museum, London, and the Brooklyn Museum of Art.

David Brody is an artist and writer living in Brooklyn. His paintings and wall drawings have been shown at Pierogi Gallery, The Drawing Center, and The Brooklyn Museum, and his digital animations have been shown at MoMA, the Reina Sofia Museum, and the Centre Georges Pompidou. His criticism is published on artcritical.com. He is currently showing paintings at James Siena's project gallery Sometimes (works of art) March 16th through April 16th.

Deborah Brown has lived and worked in New York since 1982. She most recently showed her work, "The Bushwick Paintings," at the Lesley Heller Workspace on the LES in January/February 2011. Since 2006 she has had a studio in Bushwick, where she started STOREFRONT gallery with Jason Andrew. She also serves on the board of Momenta and NURTURE art, two alternative, not-for-profit spaces in Brooklyn. In addition to her work as a painter, she has completed several public art projects around the country, including a suite of mosaics fabricated for the Houston Street subway station in Manhattan for the MTA; glass roundels for the Royal Caribbean Cruise Terminal at the Port of Miami for Miami-Dade Art-in-Public Places; and a frieze for PS 178 in Manhattan for NYC's Percent for Art Program.

Loren Munk began painting as a child when his mother brought home a paint-by-number set for his fifth birthday. Growing up in the Rockies he had little opportunity to know artists, visit art museums or galleries so he taught himself, by reading American Artist Magazine. During the height of the Vietnam War, he volunteered for military service and was stationed in Germany for two and a half years, visiting the great museums of Europe. Returning stateside, Munk moved to New York to continue his studies at the Art Students League on the G.I. Bill, and has remained ever since.

Michael Chandler began showing his paintings in 1985 at the galleries of Salvatore Ala in New York and Milan. Among others, he has exhibited in Munich with Galeria Jorg Paal; in Seoul at Gallerie Seomi; in Bologna at Galleria Comunale díArte Moderna; in Rio de Janeiro at the Museum of Modern Art; in London with Sandra Higgins Fine Art; in New York City at P.S.1, the Drawing Center and the American Academy of Arts and Letters. He has had his studio on the Lower East Side for the last thirty years. These are the first paintings Chandler has shown in New York City since 1999.

Fred Valentine is an artist and curator and will be opening a gallery in Ridgewood NY in the spring of 2011.


---
Sixth Show
Inland
OPENING: Friday, October 15th, 5 – 8pm.
DATES: One weekend only, Saturday /Sunday October 16th and 17th, noon - 6pm.
---
Fifth Show
Works on Paper
OPENING: Friday, May 21, 5 – 8pm.
DATES: One weekend only, Saturday /Sunday May 23rd and 24th, noon - 6pm.
Closing performance: by Matt Freedman and Tim Spelios, Sunday 23rd at 7pm.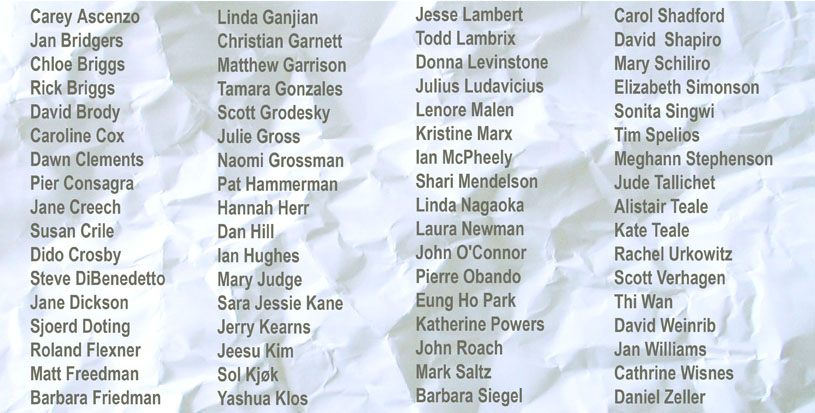 ---
Fourth Show
2 site-specific works:
Ken Devine: 'The Haphazard Color Machine'
Caroline Cox: 'Plasmodial Voids'
| | |
| --- | --- |
| | |
| Random image from the Haphazard Color Machine | Detail from Plasmodial Void |
The Haphazard Color Machine is a virtual self-generating chaotic system. In the gallery, images are projected on the floor as the (virtual) camera moves through the space determined by unpredictability.
The Haphazard Color Machine creates color, and positions it within the geometry of a sphere. Every point on and within the sphere is a unique color existing between the poles of black and white, with an equatorial line of hue at 100% saturation. Each projected image, each set of movements is unique to that sequence of events. Colors appear and disappear, some you experience and some you don't, as events happen within or outside the field of view. The lifespan of each existence is determined by unpredictability, and [possible] extinction is followed by [possible] re-creation.
Plasmodial Void's diaphanous layers form an ever-shifting optical field as one walks through the installation. The work is constructed from plastic netting typically used to package food. From this utilitarian mesh, intricate, hand made structures are developed in part to interact with and contemplate light and gravity, and in part to evoke a stream of idiosyncratic associations that could range from wormholes to eyelets, coral reefs to slime molds. Cox's improvisational process draws on the unstructured immediacy of perception and relates it to our physical world.
Ken Devine
Ken Devine lives and works in England. His exhibitions include: Aspex Gallery, Portsmouth, Colors of the Sphere 2008; Midlands Arts Centre, MAC, Birmingham, 2008; Digital Illusions, Hull Time Based Arts: Critical Platform, 2007: Artist in Residence, Ecole des Beaux-Arts, Caen, France, 2005; Artist in Residence, the Iceland Academy of the Arts, Reykjavik. 2004; Part of Shock Waves, an exploration of the creative and social impacts of New Technologies and New Physics on the Arts 1998. His publications include:
The Rationalist, the Empiricist and the Metaphysician: part of Technology in Society / Society in Technology, Edited by Örn D. Jónsson and Edward H. Huijbens. University of Iceland Press
Quantum Chess. Essay for the catalogue accompanying the exhibition Marriage of Images' at The Stanley Picker Gallery, Kingston University 1998. Also published in 'The Visual Language of Number', University of Portsmouth, in collaboration with Kingston University and University of Brighton. 1999
This is his first exhibition in the U.S.
Caroline Cox
Cox has had one person shows at Long Island University's Brooklyn campus, Sarah Bowen Gallery, Century 28 in Brooklyn, and the University of Illinois at Urbana Champaign in Chicago. Her work has been included in group shows at Yale University's School of Art, The Sculpture Center, Wake Forest University, Smack Melon, Schroeder Romero Gallery, White Columns, Pierogi Gallery, PS 122 and Don Soker Gallery in San Francisco. She has received a Pollock Krasner grant, and has done residencies at Edward Albee's the Barn and Het Apollohuis in Eindhoven, the Netherlands. Cox has been reviewed in Sculpture Magazine, Art in America (on line), The New York Times, The Village Voice, and Time Out. Cox co-founded and co-ran Flipside gallery, with Tim Spelios, in Williamsburg from 1996-2001.
---
Third Show
2 site-specific works:
Kristine Marx, Floating Room
Nicedisc, Fluorescent Phase
Opening reception: Friday, January 29th, 5 – 8pm
and for one weekend only: Saturday January 30 and Sunday 31, noon thru 6pm.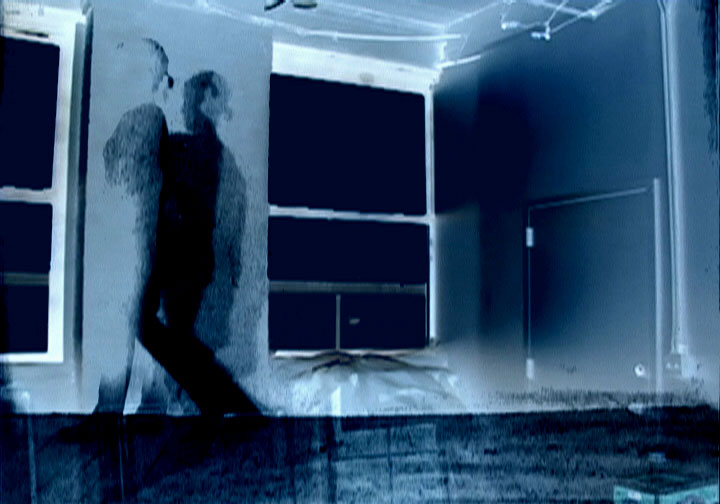 Kristine Marx has made a video piece, Floating Room, both of and for the gallery. She filmed the gallery's interior over a period of time, then took apart the taped footage, incorporated drawing and reconfigured it within the space. The video encircles us, destabilizing our perception of the architecture. The fragmented imagery moves from photographic representations to a diagrammatic idea of space. It loosely connects disparate moments in the video, always returning to the theme of a physically and psychologically evolving interior in process.
Nicedisc is the duo of Jeff Pash and Nick Phillips. Their work Fluorescent Phase has been made specifically for the long, dark corridor outside the gallery. In their collaborative audiovisual work, they employ sparse means to create hypnotic, subtly modulating spaces that map out the liminal region between minimalism and aesthetic overload. Their practice incorporates both live performances and gallery installations in an attempt to investigate
the architecture of the viewing experience and the fundamental physical presence and emotional effect of sight, sound, and space.
Kristine Marx has had solo shows in New York, Los Angeles, and Berlin. Her most recent piece, Littoral, a collaboration with composer John Supko and duo "Due East", was performed in October at Galapagos Art Space, Brooklyn. More about Kristine at www.kristinemarx.net
Nicedisc's work has been shown in Europe (Italy, Germany, Belgium, England) and most recently here in New York at the Seaport through the Lower Manhattan Cultural Council. More about Nicedisc at http://nicedisc.net
---
Second Show
Mary Carlson and Laura Newman 'Big, Small and Casual'
Opening reception: Friday, December 11, 5 – 8pm
and for one weekend only: Saturday 12 and Sunday 13, noon til 6pm.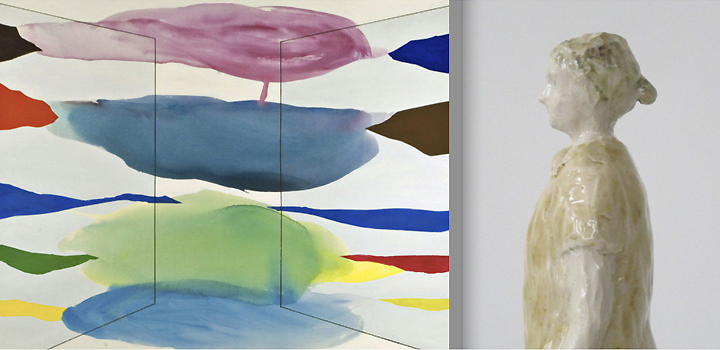 Left: Laura Newman, "Bloom", 2009, oil and acrylic on canvas, 56 x 72 inches.
Right: Mary Carlson, "Standing Figure 1", 2009, glazed porcelain, 2 x 6 x 2 inches
Laura Newman's paintings explore the activation of flat space by gesture, in large, medium, and casual formats. Stains bloom behind life-sized glass doors; swooshes animate the diagram of a building site; five blotches of paint sit on a flat pink ground.
Mary Carlson: Taking the story of Margaret of Antioch (she's the one who, after being swallowed by a demon emerged from it intact) as the starting point for her latest body of work, Carlson made sculptures referring to paintings based on the myth. She started by doing a series of ceramic pieces that refer to paintings of Margaret done by Titian, Zurbaran, Medieval manuscripts and the Master of Trebon, (a 14th century painter active in Prague). Subsequent pieces refer less directly to those paintings. The work Carlson is showing with Newman consists of a big snake made out of multiple layers of chicken wire, a small porcelain figure, and a snapshot of her ceramic piece based on "Margaret of Antioch" by Titan. The snake is "before" as there is a large human-sized lump in its body; the porcelain figure is "after" as it is standing without any apparent damage; and the photo is the time in-between.
---
Laura Newman is a painter who lives in Brooklyn, New York. She has had solo exhibitions at Lesley Heller Gallery, Bellwether Gallery, Tenri Gallery, Victoria Munroe Gallery, Vassar College and Randolph Macon College. Her work has been included in group exhibitions at the National Academy of Art, the New Museum, the Weatherspoon Museum of Art, Jim Kempner Fine Art, Monya Rowe Gallery, Elizabeth Harris Gallery, among others and reviewed in Artforum Magazine, The New York Times, the Brooklyn Rail, and Bomb Magazine.
Newman has received fellowships and awards from the American Academy in Rome, the John Simon Guggenheim Foundation, the American Academy and Institute of Arts and Letters, and the New York Foundation for the Arts.
Born in Cleveland, Ohio, and educated at Cooper Union, the California Institute of the Arts, and the Nova Scotia College of Art and Design, she teaches painting and drawing at Vassar College.
Mary Carlson After receiving a BFA from the School of Visual Arts in 1973, Mary Carlson has worked as a sculptor. She has had one-person shows in New York City at Bill Maynes Gallery, Max Protetch, Holly Solomon, Michael Klein and Curt Marcus galleries.
Her work was included in the 1995 Venice Biennale and in shows at the Kunsthalle Vienna, the New Museum, Deste Foundation in Athens, Greece, the Aldrich Museum and the John Michael Kohler Center.
Other group shows have been at Leo Castelli Gallery, Tom Cugliani, Elizabeth Harris galleries, Barbara Krakow Gallery in Boston, Cheryl Haines Gallery in San Francisco and the Massachusetts College of Art.
Her work has been reviewed in the New York Times by Ken Johnson, Holland Cotter, Michael Brenson; in Artforum by Ingrid Schaffner; in Art in America by Nancy Princenthal and Carol Kino; and in "Review" Magazine by Dominique Nahas. Catalog essays for shows at Bill Maynes Gallery were written by Monroe Denton and Monica de la Torre.
Awards include a NYFA fellowship, a National Endowment for the Arts fellowship and a Guggenheim fellowship.
More on Mary Carlson at www.mary-carlson.com, and Laura Newman at www.lauranewman.com
---
First show
Matt Freedman, "Twin Twin III, Artists Edition"
September 11-13, 2009
The gallery's first show is the third incarnation of Matt Freedman's evolving Twin Twin project, which was installed at Vertextlist in 2005 and Pierogi in 2006.
So far, the project has consisted of hundreds of everyday objects that, to Freedman, bear ghostly resemblances to the two fallen towers of the World Trade Center. The collection includes everything from modeled objects, to furniture, toys, the grating on an air conditioner and the scar on a boy's knee.
For this installation Freedman has extended the scope of the experiment and invited artist friends who are familiar with this project and share his complicated relationship with that day to contribute a piece to the collection. In his invitation to the artists he wrote:

"I want work repurposed for this show, work that would mean something else in any other context, and only in this one would remind us of 9-11. I'm not asking you to make a piece for the show, but to find a piece for the show from your own body of work. If you find you have produced work in the last eight years that you feel was influenced by 9-11, or if you see in a work of yours the shadowy image of the towers themselves for reasons you cannot fathom at all, I hope you will consider sharing that work with us for the weekend."

The response has been great, with, so far, 52 artists participating. They are:

Meredith Allen; Michael Ashkin; Mike Ballou; John Berens; Leslie Brack; David
Brody; Ken Butler; Luisa Caldwell; Mary Carlson; Robert Chambers; Cece Cole;
Caroline Cox; David Daines; Jane Dickson; Carol Diehl; Jane Fine; Barbara
Friedman; Barbara Gallucci; Daniel Georges; Ken Green; Laurence Hegarty; Lisa
Hein; David Henderson; Douglas Henderson; Clara Hess; Faten Kanaan; Nina
Katchadourian; Jerry Kearns; David Kramer; Julia Kunin; Lenore Malen; Shelley
Marlow; Douglas Paulson; Eung Ho Park; Ann Pibal; Katherine Powers; Carol Saft;
Julia Schwadron; Bob Seng; David Shapiro; Judith Shea; Ward Shelley; Barry
Sigel; Sonita Singwi; Tim Spelios; Greg Stone; Jude Tallichet; Anne Thulin;
Hanne Tierney; Rachel Urkowitz; Scott Verhagen; Daniel Wiener; Charles Yuen